Aquarium Fish & Shrimp EZ Breeder Box Ziss Aqua
Ziss EZ Breeders are designed to be placed within your fish tank to separate fish/shrimp fries or juvenile aquatic animals from the rest of your stock. Our breeders are made with high quality/durable clear plastic allowing you to view the growth from the sides with large mesh windows allowing water to cycle between the breeder box and your fish tank.
Our breeder boxes are used by all level of fish enthusiast from professional breeders and fish aquarium stores to fish hobbyist, and is suitable for almost all fish fries with the 2.4L volume providing sufficient space.
Regular Price
$79.95
Special Price
$49.95
Buy 2 for

$46.53

each and save

7

%
Buy 3 for

$46.06

each and save

8

%
Buy 4 for

$45.59

each and save

9

%
More Information
Colour
Clear
Colour
Clear
Features

2 TYPES OF BRACKETS ARE INCLUDED A & B
Integrated water supplement design
Hang on by 6-step adjustable hanger
Attach by individual mount
Safe Room by a plastic bottom guide
Adjustable bottom distance
Easy to use
Durable Stainless Steel Mesh Screen (SUS304, Made in Korea)
High-Quality Material
Made in Korea
Size: W: 14 cm x D: 14 cm x H: 15 cm
Volume: 2.4 Litres
Mesh Screen: Bottom & Side
Comes with both Suction Cap & Tank Clip

Package Contents
1 x Ziss Aqua EZ Breeder 2 Metre Air Tubing 1 x Ziss Air Valve (ZV-4) 1x Air Diffuser A & B Brackets Included
Customer Questions
No questions asked, will you be the first to ask a question
Durable stainless steel mesh screen
The most thiness part of our breeder boxes is made with stainless steel ensuring long lasting products.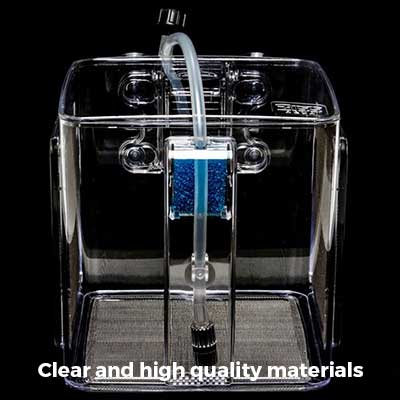 Clear and high quality materials
Our breeder boxes is made with high grade plastics, ensuring it can be used in mutliple different envorniment and conditions.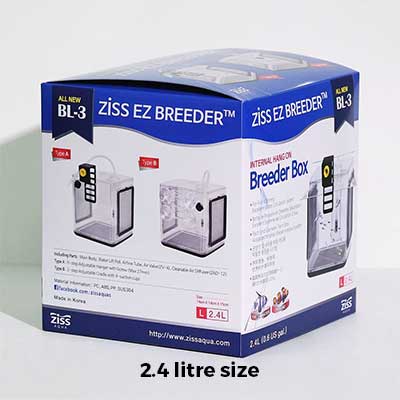 2.4 litre size
A large size means this can be used for many different kinds of fish, and for a long period of time.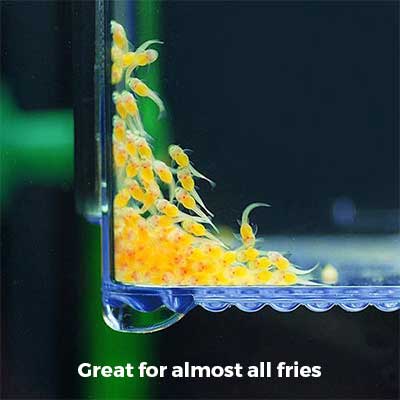 Great for almost all fries
You don't need to buy different breeder boxes for different types of fish, get this one and be set for future fish breeding projects.
A single air stone located on the side of the Ziss Aqua EZ breeder box helps aeration and oxygenation by allowing water movement.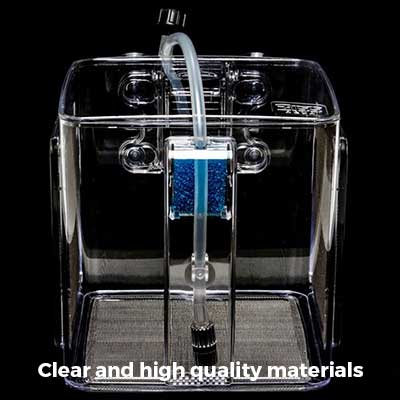 Ziss Aqua Internal EZ breeder boxes keep water temperature constant and consistent, enabling healthy fish growth.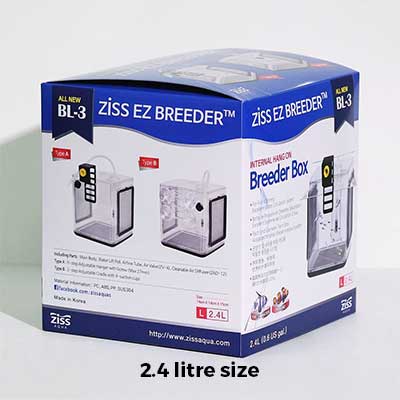 Ziss Aqua EZ Breeder internal boxes are designed to self-automate a 10% regular water change.
Clean all parts with water before use.
Attach the air stone to one end of the air tube, and on the other end attach the air valve.
Install the air line with the air stone into the air pylon.
Attach the air pylon into the box
Attach the mounting brace you want.
Connect your air pump to the air valve.
Make sure everything works fine.
Add your fries and watch them grow.